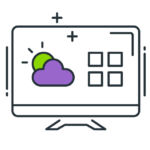 Professional Logo Design
A good logo design is essential because it represents your company and defines your brand's identity. Your logo is often one of the first things that customers see pertaining to your brand. It is important to use this first impression to appeal to the consumer.
When anyone sees the logo, they should instantly be able to distinguish you as the company it belongs to. A strong logo that represents your company should be memorable, creating a sense of brand loyalty and continuously bringing customers back. This can also be a great way to stand out against your competition. It is very important to be conscious of the impact this little detail can have on your company or website. At CentraTech Solutions, our team can create your company a logo that is strong, memorable, and modern all without breaking the bank!
Clean and Appealing

Free Icon Design

Unlimited Logo Concepts

Unlimited Revisions

48 Hour Turnaround Time

100% Ownership Rights

Vector-Based Deliverables
Recent Designs
Hier Talent Management
Hier Talent Management specializes in connecting skilled employees to employers seeking to fill job positions.
GreenScapes Lawn & Pond
GreenScapes Lawn & Pond delivers premium landscaping services. They specialize in waterscapes but can provide all landscaping services.
Pittsburgh Home Inspections
Pittsburgh Home Inspections is an ASHI certified company based around the Pittsburgh area.
Trades for Hire LLC
Trades For Hire works closely with schools and employers to find great opportunities for skilled laborers.
Advanced Medical Equipment
Advanced Medical provides medical facilities with cutting-edge equipment, service, support, and supplies.
Alternative Testing Labs
Alternative Testing Labs is a Chemical Testing Facility based in Latrobe, PA. They provide professional service with staff and that is passionate about the field.