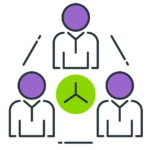 IT Solution Consulting
At CentraTech Solutions, we pride ourselves on our excellent customer service. A big part of IT Consulting is determining what is the best solution for YOU. We listen to you intently and work hard to find a solution that is the right fit for you or your business. We want to see your ideas come into fruition efficiently and for a great affordable price. We don't just try to sell you a particular product for the sake of making a sale like a lot of the competition; we want to make sure the products and services you receive are actually ones that are needed and benefit you or your business.
Making sure that you have selected the proper equipment, programming language, or structure can be detrimental to the project you are trying to see out. Here at CentraTech Solutions, we can sit down with you and make sure your selections are optimized for your workload. We can also help you restructure a plan you already have made to ensure you are using the resources right for you and then help you make the necessary adjustments to account for any new resources. We offer you service free of any bias to any certain brand of products or languages, we only choose what makes sense for you and your project. Below you will see a list of a few topics we can help you in, though we can help with anything technology related.
How Can We Help You?
Once we understand your business and your processes, we can offer our expert insight in a number of areas.
IT Purchasing Recommendations

IT Infrastructure Revisions

Custom Computer Systems

Network Planning

Disaster Planning

Asset Management

Corporate Technology Plans

Data Backup Scheduling / Testing

Network Security & Penetration Testing

Cloud Computing

Websites and Web Applications
Get Ahold of Us
Give us a call or send us an email to schedule an appointment for your IT Consulting needs. We look forward to helping you whether it be creating a plan of action or helping shed some light on or optimize some plans already in motion. If we miss your call, we will be sure to get back to you as soon as possible.