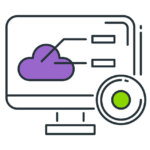 Your Website is Your Business' Identity!
First impressions count, and websites allow you to make a very strong impression with a well-designed introduction for your business. The reality is that 56% of people won't trust a business without a website. Therefore, having an exceptional website can instantly boost your credibility as a legitimate business. Your website also serves as an advocate for your business, being available when you are not, 24/7/365. Without a website, you are not being seen by a large percentage of potential customers. Research shows that 81% of people explore a business or service online prior to making their decision. Having a modern, mobile friendly website can be your number one tool for standing out in the crowd.
Why is a Great, Modern Web Design Important?
1. GAIN CREDIBILITY
Today, more and more consumers use the internet to search for the products or services they need. Your business will gain credibility by having a website. Without one, potential customers will go to your competitors that do. If you already have one but it is "home-made", having it professionally redesigned will provide your business with a professional image which will inspire even greater confidence. For home-based businesses, this is particularly beneficial since you do not have a storefront to promote your products or services.
2. SAVE MONEY
Small business owners may think that they can't afford professional website design, but you can't afford NOT to. Although the initial cost of designing a website can vary, once it's up and running, it generally costs under $20 a month. Compared with the cost of other advertising, when you consider the potential market you can reach with good web design, it is a very cost effective way to promote your business.
3. KEEP YOUR CUSTOMERS INFORMED
Think of your website as being your online brochure or catalog. It is much easier and quicker to update information about your products and services on your website than in print material, making it an effective way of letting your customers know about the arrival of new products, upcoming events, special promotions, or any new services you now offer. Unlike print ads which quickly become outdated, your website can provide current information and news.
4. ALWAYS ACCESSIBLE
A website is available to both your existing and potential customers every minute of every day, all year long. It's a great way to provide them with a convenient way of reviewing your products and services when your physical location is closed. With today's busy lifestyles, this is a great selling point when making a purchasing decision.
5. TARGET A WIDER MARKET
Whether you provide products or services, your website will provide an alternative location to sell them. As a retailer, it (e-commerce) is a great place to sell your products to a wider market; even services can be made available globally.
6. SHOWCASE YOUR WORK
No matter what type of business you're in, a website is a great place to showcase your work. By including a portfolio or image gallery, as well as testimonials about your skills, you can demonstrate what makes your business unique.
7. SAVE YOUR VALUABLE TIME
Providing information to your customers takes time, whether it's on the phone, face-to-face, in a brochure, or in emails. When your website is designed for optimal user experience, customers will contact you with ease. Also, with an online catalog, you can provide lots of information about your products and services. Once it is up and running, it is available to your customers indefinitely, saving you time. And what is time? Time is money!
At CentraTech, our programmers use the most bleeding-edge technologies and practices to create your custom application to not only be efficient during development, but to ensure it is user friendly, intuitive, and caters directly to your needs. There is no project that we cannot handle and we especially love creating solutions to challenging problems; large or small, we have the ability and knowledge to take care of you. We are interested in hearing your next big idea, so we can help you in any way insure that your vision becomes a reality!
What Makes a Great Website Design?
1. MOBILE FRIENDLY – RESPONSIVE WEB DESIGN
According to the most recent statistics, more people will visit your website using their phone or tablet than from any other device. This means that it is crucial that your design is responsive. This means that it will move and/or resize content to make the viewing experience optimal on displays of all sizes, including small phone screens.
2. FAST LOAD TIMES
No one wants to wait around for a website to load. It doesn't do any good if the site looks great if people give up waiting for it to load.
3. USABILITY
Usability has always been of key importance to a successful website. Ones with an intuitive design, great user experience, and images that are pleasing to the eye are going to attract more customers than those without these features. A simple, intuitive, and functional navigation is another important feature to focus on. If customers can't easily make their way around your site, they aren't likely to stay long.
4. INNOVATIVE / INTERACTIVE CONTENT
Bold, innovative design elements, animated content, and unique effects, as well as video content, are a great way to engage the user and make their experience more enjoyable and fulfilling. Your website is your first digital impression and you want to make sure it's a great one. It should reflect everything you want potential customers to know and remember about your business.
Web Design Pricing
Basic Package
$1500
Basic informational sites
Up to 5 Pages
Free data migration from existing sites
1 month free hosting upon completion
Contact us!
Premium Package

$2500
Larger or more intricate sites
Up to 15 Pages
Free data migration from existing sites
Some minor custom programming
2 months free hosting upon completion
Contact us!
Custom Packages
$4000+
The sky is the limit!
Unlimited Pages
Free data migration from existing sites
Completely custom programming
Login System
Custom Forms
Online Payment Options
3 months free hosting upon completion
Contact us!