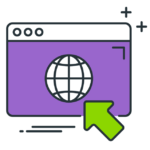 How Search Engine Optimization Can Help
Everyone wants to be the number one search result on Google, but just like in the classic film, The Highlander, "There can be only one!" A great website isn't of much use if it can't be found. Let's face it, most people are probably going to discover your website using a search engine like Google or Bing. Everyone wants to be the first result when a potential customer searches for a phrase that is relevant to their business. Unfortunately, not everyone can be the number one ranked search result.
You may think that if you build a great looking website, that's all it takes to get a lot of traffic. This is not usually the case. The underlying code must be updated regularly to ensure search engines see the pages, index them properly, and rank them higher than your competition. SEO doesn't only take place on the website though. A lot of what makes one site rank higher than another is your "web reputation". Some of these factors, such as the age of your website, may be out of your hands, but we help to improve any area that we can, including adding links to your website from other reputable sources (aka backlinks).
Search engines rank results based on a large number of criteria. In fact, Google uses well over 200 factors to determine where your website will be shown on the list. There is much that can be done both to improve your ranking. This is called Search Engine Optimization or SEO.
SEO Services
On-page optimizations are the actions that can be taken directly within the website in order to improve its position in the search rankings.
Off-Page Optimizations
Off-page optimization refers to all the measures that can be taken outside of the actual website in order to improve its position in search rankings. These measures are typically used to help create as many high-quality backlinks (incoming links) as possible.
Keyword Targeting
The first step to any successful SEO campaign should be to define your targeted keywords. These are the words and phrases that you want to increase your ranking for.
Monitoring
Since much can be done to improve your results, it is important to periodically assess the changes in rank for a set of keywords throughout the SEO campaign. We have a nine-page long checklist of SEO factors that we go through to ensure every aspect of your web presence is optimized to yield the best possible search engine rankings.
SEO Pricing
SEO Monitoring
Per Month
$199
Ranking Monitoring and Reports
Contact Us
Hourly SEO
Per Hour
$120
Constant Code Optimization & Backlink Management
Contact Us