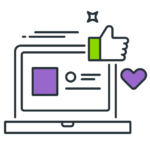 Boost Your Presence on Social Media
We provide low-cost content creation which keeps your followers happy and engaged with your social media platforms. We can also help with growing your social media followers and drive more traffic to your business page by using paid advertising, including video, text, or image-based ads. We can also use our sophisticated software to scheduled posts in advance for you; keeping your followers actively engaged and ensuring you never forget to post an important event to your pages.
Why Social Media Marketing?
Social Media Marketing refers to the process of gaining traffic or attention through social media sites, such as Facebook, Twitter, LinkedIn, or even media-based sites such as YouTube, Instagram, or Pinterest. In today's digital age, utilizing these platforms to promote your company can prove to be very beneficial. One key benefit is that it is the best way to reach a younger audience. Social Media, in general, has grown through all ages, but specifically among younger generations.
Of the social media marketing options, Facebook and Instagram seem to be the most effective, but we can assist with any platform. YouTube has also proven to be a great platform to advertise on in the form of videos on your own channel or advertisements run on the videos of others. Choosing the correct mixture of social media platforms for you to advertise on is important when it comes to reaching your target audience. We can assist you in this process by recommending platforms we see as best for your company to advertise on, ensuring you reach the audience best for you.
No matter your company's needs, we are sure that we have a social media package that will meet your needs and budget. Let us help you begin marketing your business through social media or simply take over your marketing so you can focus on other tasks. Call our office or even stop in so we can build a package that's right for you.