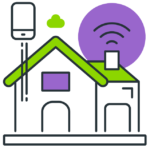 Get Connected!
Setting up a network can be an excellent way to improve the workflow of your business and make things far more efficient. This will enable you and your employees to share files with ease, as well as give access to the files you need wherever you are in the building. Collaborating on documents and projects will have never been easier, allowing you to get more done and do it more effectively.
At CentraTech Solutions, we have the knowledge and skills necessary to get your network off the ground, even if we have to start from scratch. We provide multiple services to get you started including network wiring (ethernet or fiber cabling), network infrastructure upgrades and maintenance (routers, switches, patch panels, etc.), wireless network planning and installation (access point locations, wireless AP controller setup, etc.), and much more! Contact us today and see how we can help you!
Advantages of Networking Computers
Setting up a computer network is a fast and reliable way of sharing information and resources within a business. It can help you make the most of your IT systems equipment.
File Sharing
You can easily share data between different users, access it remotely if you keep it on other connected devices, or carry user folders between different computers when you sign on.
Resource Sharing
Using network-connected peripheral devices like printers, scanners, and copiers, or sharing software between multiple users, saves both time and money.
Increased Storage Capacity
You can access files and multimedia, such as images and music, which you store remotely on other machines or network-attached storage devices.
Increased Productivity
Your business can become more efficient – eg networked access to a common database can avoid the same data being keyed multiple times, saving time and preventing errors staff can deal with queries and deliver a better standard of service as a result of sharing customer data.
Centralized Data
You can reduce errors and improve consistency by having all staff work from a single source of information. This way, you can make standard versions of manuals and directories available to them, and back up data from a single point on a scheduled basis, ensuring consistency.