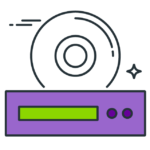 Data Backup & Recovery
CentraTech Solutions provides peace of mind through easy-to-use, unlimited automatic data backup and recovery. We help small businesses and individuals recover from disasters, human error, theft of devices, ransomware and more. Your data is what matters most. Don't let it go unprotected!
When disaster strikes, recovering your data is our top priority. No recovery is too small or too big for our team of professionals. Our data recovery specialists will exhaust all options to recover your data. If we are unable to recover your data in-house, our data recovery partners have the knowledge and ability to quickly recover your data using a state of the art clean room facility. They've successfully performed over 500,000 data recoveries.
Affordable Unlimited Cloud Backup
Ask us about our inexpensive cloud backup solutions!
Always On – Backs up your data every 15 minutes using minimal resources

Unlimited Storage – Store as much as you want without any added cost

Military Grade AES-256 Encryption – Rest easy knowing all your files are safe

External Drive Backup Option – Backup all of your drives even your external drives

File Versioning – Every revision of a file is saved so you can go back to any point in time

Deleted File Protection – Even if you delete a file, we can still recover it from a backup
Recovery Can Be Performed On Any Storage Device
If data can be stored on it, we can recover data from it.
Hard Drives

Solid State Drives (SSD)

RAID Arrays

Enterprise Server Hard Drives

Virtual Machines

Cloud Storage

Mobile Devices

Tape Drives

NAS / SAN

Laptop Drives
Timing Can Be Critical
We understand data recovery can be very time-sensitive and offer different service levels to meet our customer's needs. Our engineers analyze your media, determine the condition of the data and provide you with an option to receive an online report showing all recoverable files BEFORE you need to make decisions to proceed with our service. After your data is recovered, it's returned on the media of your choice (HDD, CD, DVD, tape, USB drive).
Standard: Average of 7 business days.
Expedited: Average of 3 business days.
Emergency: Average of 1 business day.